ACORN Roadshow with Michael Harvey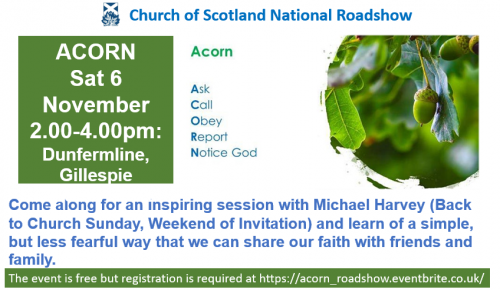 ACORN Roadshow with Michael Harvey
6 November 2021
Come along for an inspiring session with Michael Harvey (Back to Church Sunday, Weekend of Invitation) and learn of a simple, but less fearful way that we can share our faith with friends and family.
ACORN is an informal and cost-free method of faith-sharing that has gained huge popularity amongst ordinary members of congregations up and down Scotland.
Come and find out why!
6 November 2.00-4.00pm: Dunfermline, Gillespie Memorial Church
Booking is essential: visit Eventbrite here https://acorn_roadshow.eventbrite.co.uk/ to register your place.