Congratulations to Rev Dr Iain Greenshields, Moderator Elect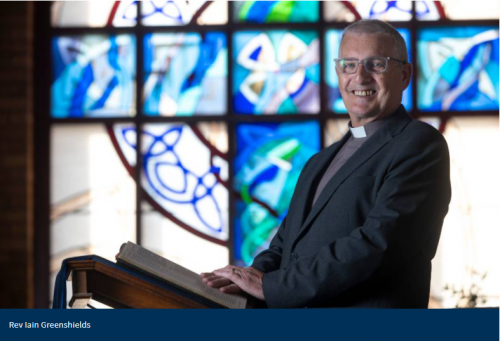 On behalf of Fife Presbytery, Rev Dr David Coulter, Presbytery Clerk, Mr Neil Campbell, Presbytery Mission Director and I send our congratulations and warmest wishes to Iain, his wife Linda and family, and his church family at Dunfermline: St Margaret's Community Church, on the announcement that he is the Church of Scotland's Moderator Elect.
When I learned the news this morning, the joyous image of the trees of the fields clapping their hands came to mind. There aren't many leaves left to clap as autumn moves into winter, yet look at the hopeful colours remaining - even in Stick Season, as they call it following Fall in New England. Colour remains and keeps hope for new life alive, even amid an abundance of death.
The world needs hope for many reasons, and two interlinked are post
pandemic recovery and climate change reversal. Another is the relentless plague of poverty and its accompanying miseries. Jesus predicted they would always be with us. Iain's calling to this high ambassadorial role means we will be represented by a man whose ministry in Jesus' name has been and is marked by putting many of the poorest, most vulnerable people at the centre of his calling. To call such a Christian leader in
perhaps the darkest time since the world wars is good news; it's now that people of all faiths and none look for its light, even in the abundance of autumn/winter darkening.
The Fife Presbytery family rejoice with you, Iain and stand ready to help in prayer, in fellowship, in the hands on hope that is Jesus Christ.
(Isaiah 55 v1) Ho, every one who thirsts, come to the waters; and he who has no money, come, buy and eat! … (55 v6) Seek the Lord while he may be found … (55 v12) For you shall go out with joy, and be led forth in peace; the mountains and the hills before you shall break forth in singing, and all the trees of the fields shall clap their hands.
Rev Jane Barron
Moderator, Fife Presbytery