Meeting with NHS Fife Healthcare Chaplains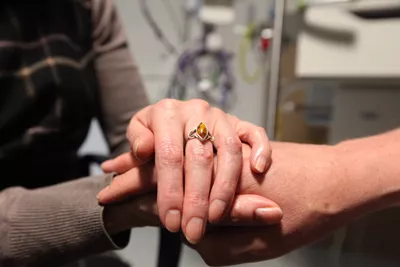 The Presbytery Clerk, David together with Jane the Moderator met with Mark Evans who is Lead Chaplain for Department of Spiritual Care, NHS Fife together with chaplains Gordon Strang and Ian Campbell on Thursday, 26th August. We met in Hayfield House across the road from the Victoria Hospital in Kirkcaldy. In the wake of the last 18 months it was good to ask them how they are, and how 8,500 colleagues are doing across the county. We appreciated their time and hospitality.
NHS Fife is the county's biggest employer. It is one of 14 territorial NHS Boards in Scotland and provides healthcare to a population between 350,000 - 400,000. The Department of Spiritual Care is a key point of contact for churches, for example if someone we know is going into hospital and would appreciate a chaplain's visit we are encouraged to make contact. Please check the website for details. The chaplains operate an on call system and someone is available 24/7 if there's an emergency of any kind whatsoever, and for anyone of any Christian denomination, faith or none and other life philosophy. They are there for the best and worst of times, in maternity wards and at the bedside of someone who is dying.
Presently the numbers of staff sick are three times the average for the time of year which includes everyone, nurses, doctors, ancillary staff. Chaplains are responding to around 30 referrals a week, compared to around 180 at the peak of the Covid 19 pandemic. They say they have noticed an increase in the numbers of people asking existential questions, people left aghast and bereft in the wake of the visceral pandemic which has been devastating. There is concern going forward about the coming Winter and how things will be, but an overall concern at the moment is the relatively few numbers of under 40's having the double vaccine. This is a huge concern.
You will see the Chaplains have forwarded a video link. NHS Scotland have developed a new vaccine explainer video in the hope of encouraging uptake of the Covid-19 vaccine. In the video, mention is made of Scottish faith leaders and their support of the call.
Last Easter Fife Presbytery sent a digital Easter Card to 8,500 staff members at NHS Fife, as a small but deeply appreciative token of our thankfulness and respect. The Department of Spiritual Care is there for the everyday cares and fears too, and links with individual parishes and the Presbytery are important.
The Kingdom
by R. S. Thomas, Priest & Welsh poet.
It's a long way off but inside it
There are quite different things going on:
Festivals at which the poor man
Is king and the consumptive is
Healed; mirrors in which the blind look
At themselves and love looks at them
Back; and industry is for mending
The bent bones and the minds fractured
By life. It's a long way off, but to get
There takes no time and admission
Is free, if you purge yourself
Of desire, and present yourself with
Your need only and the simple offering
Of your faith, green as a leaf.